Healthy Smiles for ME, Inc.    




Helping Maine Children





  One Smile at a time!
Our mission is to educate children about oral health and the importance of good oral hygiene habits. Every child that sits in our chair receives hands on personal oral hygiene education. Our team of Dental Hygienists are equipped with portable equipment that allows us to provide quality care in almost any location. We provide services at a reduced rate for families who do not qualify for MaineCare and do not have private dental insurance. Children who are not going to the dentist for financial reasons are able to access preventive care in school.

Funding has been made possible by generous donations from private foundations including Brooks Family Foundation, Walmart State Giving, Stephen and Tabitha Foundation, Lewiston Auburn Children's Foundation and many silent donors.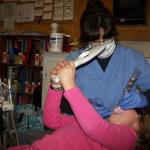 501c3 Non Profit

All donations are tax deductible.